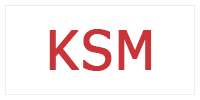 1972 - Production start of surface embroidery machines of Pfaff - industrial machines for endless transport of fabric 1977 - Pfaff introduce the first mechanical multihead embroidery machine with 600 stitches per minute 1981 - Under the trade name "KSM" multihead embroidery machines are developed, 700 stitches per minute 1993 - Introduction of the "SM3" series. 1000 stitches per minute with stitch length of up to 6.2 mm 1997 - G.M. Pfaff AG sells the complete embroidery machines program to KSM GmbH 2000 - Millennium series are presented as most productive flatbed- and cylindrical versions, 1200 stitches per minute 2003 - Mega-stretched embroidery fields open new targeted groups 2005 - Movement into new facilities in Konken 2009 - Start of the new embroidery machines generation Pfaff KSM Mark III through GTT 2010 - First 12 head flatbed embroidery machine worldwide with 1600 stitches per minute 2011 - Extended scope of machinery for surface finishing of textiles as embroidery-, sewing- and lamination solution 2014 - Development of our new touch screen with included barcode scanner, Faff
How can we help you?
Contact us at the MEHALA MACHINES INDIA LTD office nearest to you or submit a business inquiry online.